Booty Buddy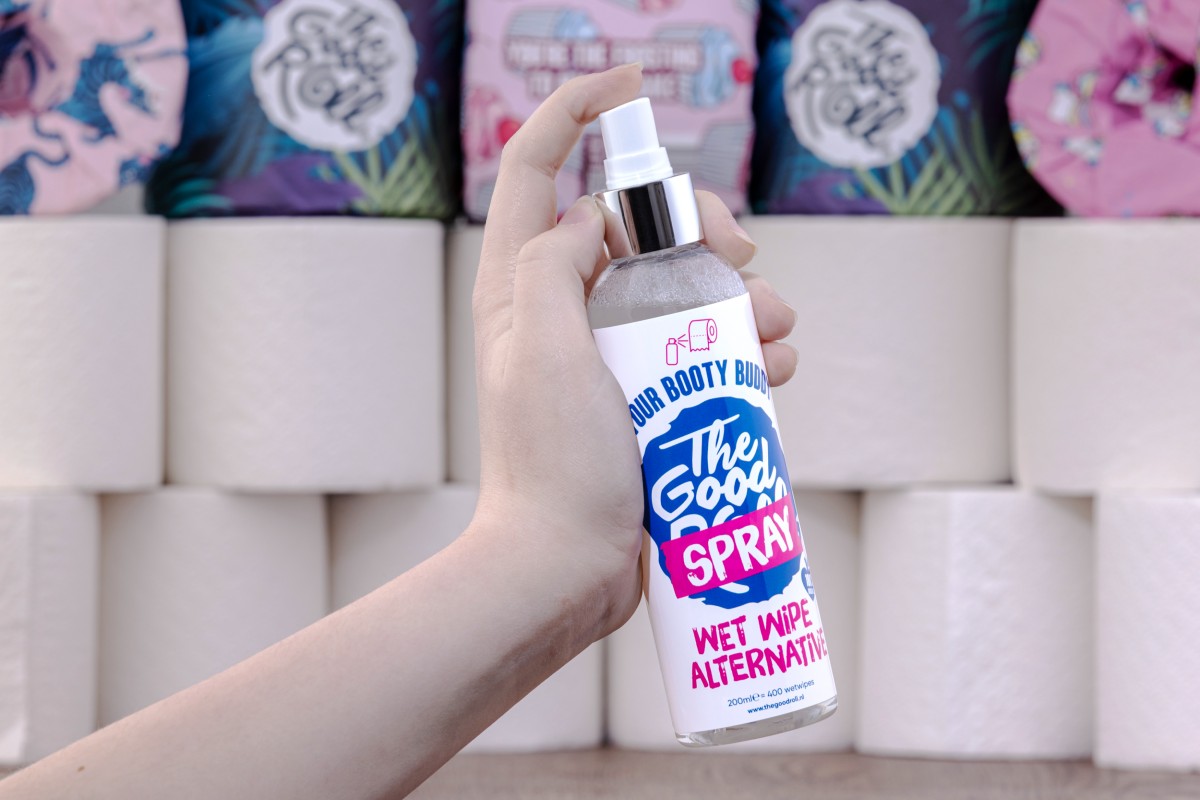 At The Good Roll, we go for sustainability in the smallest room in your house. You already know The Good Roll from our 100% recycled toilet paper and our rolls made from bamboo. But did you know that we have been working on the development of a toilet paper spray for the past two years? We are proud to say that we have rolled out a new product: The Booty Buddy. The nurturing Booty Buddy toilet paper spray from The Good Roll gives you your own refreshing and nurturing wet-wipes in no time.
Bubble gum! That is the first thing that comes to mind when you smell the Booty Buddy fragrance. This sweet and refreshing fragrance takes you back to your childhood and also gives children a fun association. The Booty Buddy can be used from 0 years of age.
Why have we developed a toilet paper spray?
The use of wet toilet paper is extremely bad for the environment. They are often made from plastic. Despite the fact that the packaging often states that the moist toilet paper is biodegradable, practice shows otherwise. Damp toilet paper regularly clogs sewers. In fact, it is so bad for the environment that the EU is considering banning wet toilet paper altogether. This is because wet tissues can never be flushed down the toilet, they have to be disposed of in the waste bin.
Besides being bad for the environment, wet toilet paper is also bad for you down under. Moist toilet paper causes a lot of PH-values of your skin to get out of balance. The paper removes good and bad bacteria. In the short term, this won't have any unpleasant consequences, but if you are a fanatical user, you might experience unpleasant symptoms after a while. Not good for your bottom. The Booty Buddy has been specially developed to protect your skin and is suitable for all skin types.
Not only is the Booty Buddy good for the environment, you also save money. One bottle of the Booty Buddy will last you just as long as 10 (!) packs of wet-wipes. When you use the Booty Buddy, it's more comfortable, cleaner and fresher than just dry toilet paper.
Impact from your porcelain throne
The Good Roll is also known as the toilet paper company that builds toilets. Half of our net profit goes towards building toilets in Ghana. By wiping your bottom with our Booty Buddy, you are already contributing to a good environment, saving a lot of money and making your bottom cleaner. You also contribute to the construction of toilets in developing countries by wiping your bottom with our Booty Buddy from your porcelain throne: maximum impact!
You can order the Booty Buddy from our webshop for €7.95.
Advantages of the Booty Buddy
- Mild, very lightly scented product for intensive hygiene.
- 100% natural ingredients, safe for all skin types.
- 200 ml per bottle, convenient for travelling.
- Can also be used to clean the toilet seat.
- Protects the skin and supports good bacteria.
- Optimal function with The Good Roll 100% Recycled toilet paper.
- Flushable, prevents clogging.
- Approved and registered as a cosmetic product in the Cosmetic Products Notification Portal (CPNP).
Keep rolling with us
The papermaking process of our bamboo paper in Europe.




The only negative thing about The Good Roll: our CO2 emissions




Pure Africa at The Good Roll



Choose: