ZustainaBox x The Good Roll
Zustaina with a Z. Out of love for her big Sister (Dutch translation: grote Zus) who she suddenly lost.
ZustainaBox is a company that wants to inspire as many people as possible to make sustainable choices. They do Corporate Social Responsibility (CSR). This means that they believe it is important for a company to take responsibility for society.
Sustainable Christmas boxes
ZustainaBox is bringing out sustainable Christmas hampers this year. Original Christmas hampers with surprising contents. Expect a lot of eco-friendly products that spread a positive message, and make the world a little nicer. If that's not suitable for the Christmas season....
We at The Good Roll like to publicize that our relationship with ZustainaBox is on a roll, which is why we are happy to collaborate and support Zustainabox.
The great thing about these Christmas packages is that you can decide how you want your package. You can put together an original, sustainable Christmas package yourself or choose a green Christmas package that ZustainaBox has already created for you. The choice is entirely up to you.
The sustainable Christmas boxes contain products that are 100% plant-based, sustainable, zero-waste, plastic-free and made by local green entrepreneurs. Products with a green look and feel including surprising, inspiring and refreshing stories.
The meaning of a sustainable Christmas package at ZustainaBox:
- Christmas products that are vegan, plastic-free and low-impact produced
- Everything is made by local entrepreneurs
- 1 m2 of forest is protected in the Netherlands per sustainable Christmas gift
- Where possible, delivery is made by bicycle or via Budbee for CO2-neutral delivery.
Order now your favorite sustainable Christmas gift
The Good Roll collaboration
The Good Roll also wants to contribute to CSR if possible. With ZustainaBox, that's possible through their sustainable Christmas packages that will keep you going throughout Christmas. The Good Roll can also be found in a number of sustainable Christmas packages from ZustainaBox. With these Christmas packages, you will soon be back in great comfort.
These are the following sustainable Christmas packages: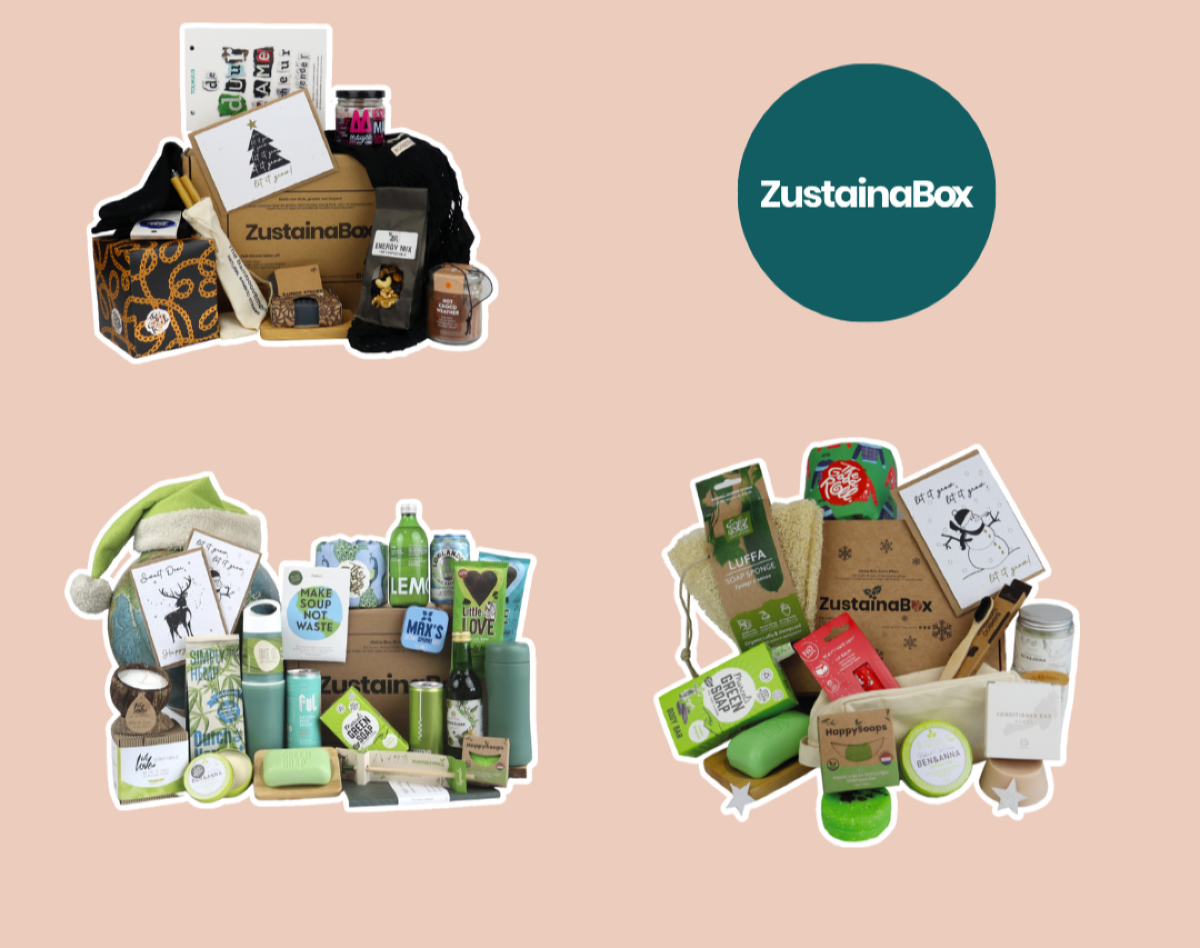 Order your favorite sustainable Christmas box from ZustainaBox below now including The Good Roll.
Finding it hard to choose? We completely recognize that! Let's start with, are you a folder, propper or wrapper?
We suggest*:
Folder - The Xmas Blackbox
Propper - The ChristmasCare Box
Wrapper - The Christmas Planet Box
*Choice is entirely at your own risk ;-)
In addition, of course, you can also choose the other sustainable packages from ZustainaBox. These are just as fun even without The Good Roll. You can find them below
All sustainable Christmas boxes
Who is ZustainaBox?
ZustainaBox is an initiative of Manon van Leeuwen. The most beautiful eco gift was born out of her love for nature and the sudden loss of her sister. Manon's sister had a big heart for caring, family and nature. Always looking for beautiful sustainable products and the best ingredients for a fun sustainable life. She also inspired others to make sustainable choices and Zustainabox was her greatest passion. Zustaina with the Z of Zus who is always there.
Sustainable living is an ongoing theme that Manon enjoys. Her search for green stuff has become a hobby, a day job, a way of life. "We really need to make sustainable choices to help the planet a little bit together. Every sustainable choice counts and I like to show that."
Manon came up with ZustainaBox. The box with a mission. To inspire as many people as possible to choose sustainable. How? By surprising you with a festively packaged box of Sustainable stuff that will automatically get you excited. Sustainable with the Z of Zus. ZustainaBox is the best eco gift, because every sustainable choice counts and sisters are forever.
Keep rolling with us
Toilet paper and the toilet roll holder: a fun history lesson




The Good Toilet: when your impact is bigger than saving trees!




Orange Lions and The Good Roll together make the world less shitty



Choose: