The Good Roll's Impact
Impact, the effect or influence of your actions. At The Good Roll we strive to make the biggest positive impact possible. We do this in all parts of our company, from environmental impact to social impact. Want to know more about what impact we make? Then read on and we'll take you on our journey.
Benefits of recycled paper
At The Good Roll, we sell 100% European recycled paper. But what is the actual difference in impact with using recycled instead of regular paper? Let us explain.
Did you know regular paper is made from the pulp of trees? For this you need forests and agricultural land, recycled paper needs neither of those! All recycled paper needs are water and energy. Furthermore, recycled paper needs 30% less water during production than regular paper. It uses 10-15 litres of water in comparison to 25 litres of water per kilogram that normal paper needs! In addition, we filter the water used in the process for it to be returned into rivers being a 100% clean.
Did you know that recycled paper can be recycled again up to 4-5 times! We are committed to doing the best we can, that is why we use 100% European recycled paper. We are in possession of the FSC-certificate to show all of you our unstoppable commitment.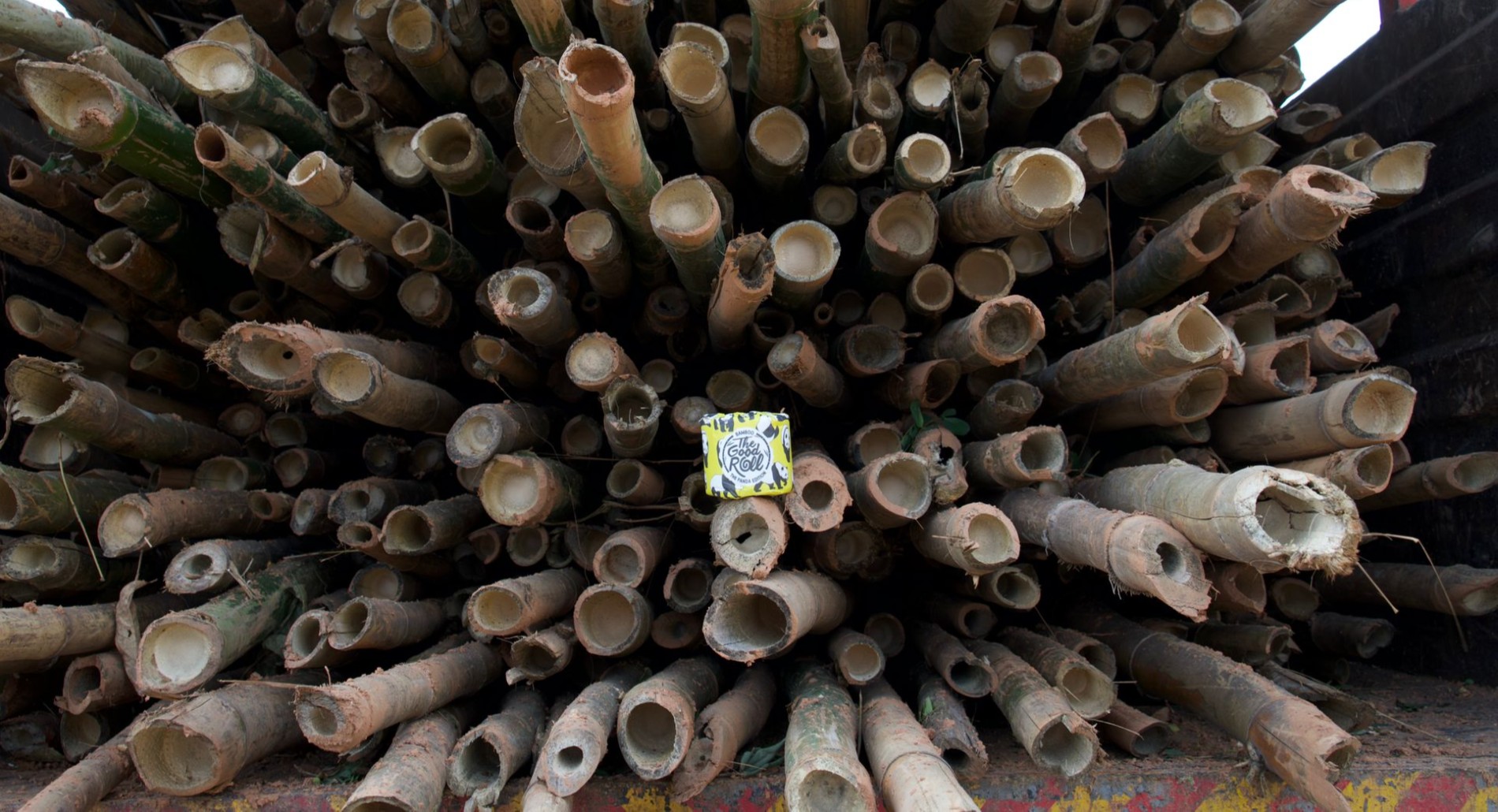 Benefits of Bamboo
We sell our bamboo rolls in a kit with a wrap or without so that everyone has a satisfactory option. The rolls in our Panda kits are 100% tree-friendly, plastic-free and chemical-free whilst being super soft at the same time! Did you know that bamboo is part of the grass family? Bamboo takes around 1 year to fully grow in comparison to the 40 years a tree grows. That's not all the bamboo accelerates at; the bamboo can hold 100 up to 400 tonnes of CO2 per hectare. Not only does it reduce CO2 emissions, but it also prevents deforestation.
Asia has an abundance of bamboo of which most they do not use. As bamboo is cultivated at these low rates, it is a major area of opportunity. As bamboo is 100% biodegradable, we can additionally ensure a cleaner and healthier future with our bamboo rolls. No pandas were harmed in the process ;) Did you know that we teach the bamboo farmers exactly how to cut the bamboo to grow back optimally? This way, we ensure that there is enough bamboo for all.
The lack of plastic is fantastic
As you might know, our products are a 100% plastic free. This is great as plastic has been polluting the planet to the point where we have complete islands of plastic floating in the sea. That is why we decided to make our products plastic free. But what are our products packaged in, you might ask. Our products are either wrapped in our cheerful wrappers with bio-ink. Bio ink is made from 100% natural oils. Normal ink is made from petroleum, which contributes to the fossil-fuel industry, this is an absolute no-go for us. Of course, no ink is even more sustainable, which is why we also sell our rolls without a wrapper! The rolls are then packaged in FSC-certified and 100% recycled paper boxes, ready for the customers to receive.
But how do our rolls get to us in a hygienic manner so the rolls can be shipped in their high-quality state? The rolls are shipped to our warehouse where they get wrapped and packed, in this shipping process 30% of our products are secured with plastic for hygienic standards. The reason for this is that there are hygienic standards and regulations that have to be kept up with in for example the hotel industry. The plastic used in this part of the supply chain is 100% recycled and recyclable and will immediately be recycled again after the rolls arrive at our warehouse. The recycled plastic will be reused by other companies, in the sustainability industry, that use 100% recycled plastic in their products. We work closely together with the Environmental Service Netherlands, to ensure our products are responsibly recycled. Thus, our products remain 100% plastic free. At the end of 2021 we want to be a 100% plastic free throughout our whole supply chain. We want to reach this goal through our up and coming bamboo toilet factory in Ghana. Where we set the rules for shipping, and instead of plastic securing, we want to ship the rolls in airtight special shipping containers. We are on the road to be 100% plastic free circularly. Until then we will ensure that our 100% recycled plastic either gets recycled or a new purpose. Let's not waste waste!
Rolling on the right track
Our Good Roll Family keeps growing at the speed of light. However, how do we keep up with shipping sustainably to all our customers? We are proud to say that we deliver with Budbee. At this moment Budbee and The Good Roll already work together in Sweden, Denmark, Finland and The Netherlands, and soon also in Belgium too.
Budbee has given us the opportunity to also realise our sustainable mission in our logistics process. Budbee's technology makes it possible to track an order from The Good Roll down to the minute, and the customer is informed of the delivery at all times. Because of this technology, over 97 percent of Budbee's packages are actually delivered on the first try, and almost no unnecessary emissions occur from returns. Moreover, by using artificial intelligence to calculate the optimal route, the CO2 emissions are kept as low as possible. Budbee delivers our boxes 100% fossil fuel free in over 30 cities in the Netherlands. In all other areas Budbee is CO2 Neutral, thanks to our collaboration with JustDiggit.
JustDiggit has given us the opportunity to compensate for the emissions that we have had to make and pushed us from being CO2 Neutral to CO2 negative! Justdiggit is focused on its landscape restoration programs. These programs empower, educate, and activate farmers in Africa to make drylands green again. The effects of these programs are very substantial. The restoration of ecosystems causes CO2 reduction temperature decrease, return of vegetation, water replenishment, and so many more benefits. This allows local communities to live in a greener and healthier environment with economic growth. With all of this, we reach a number of Sustainable Development Goals. We compensate 6.5 tonnes of CO2 for €33.31 with which so far in 2021, we have been able to green 270,000m2 of dry land and bring back 1,000 trees. In the long run, these trees and the green land will save 424 tonnes of CO2. The more emissions we make, the more we compensate. Thus, even though we are growing at super speed, we will stay true to our sustainable mission. We can proudly say, thanks to JustDiggit and Budbee, that we are CO2 negative!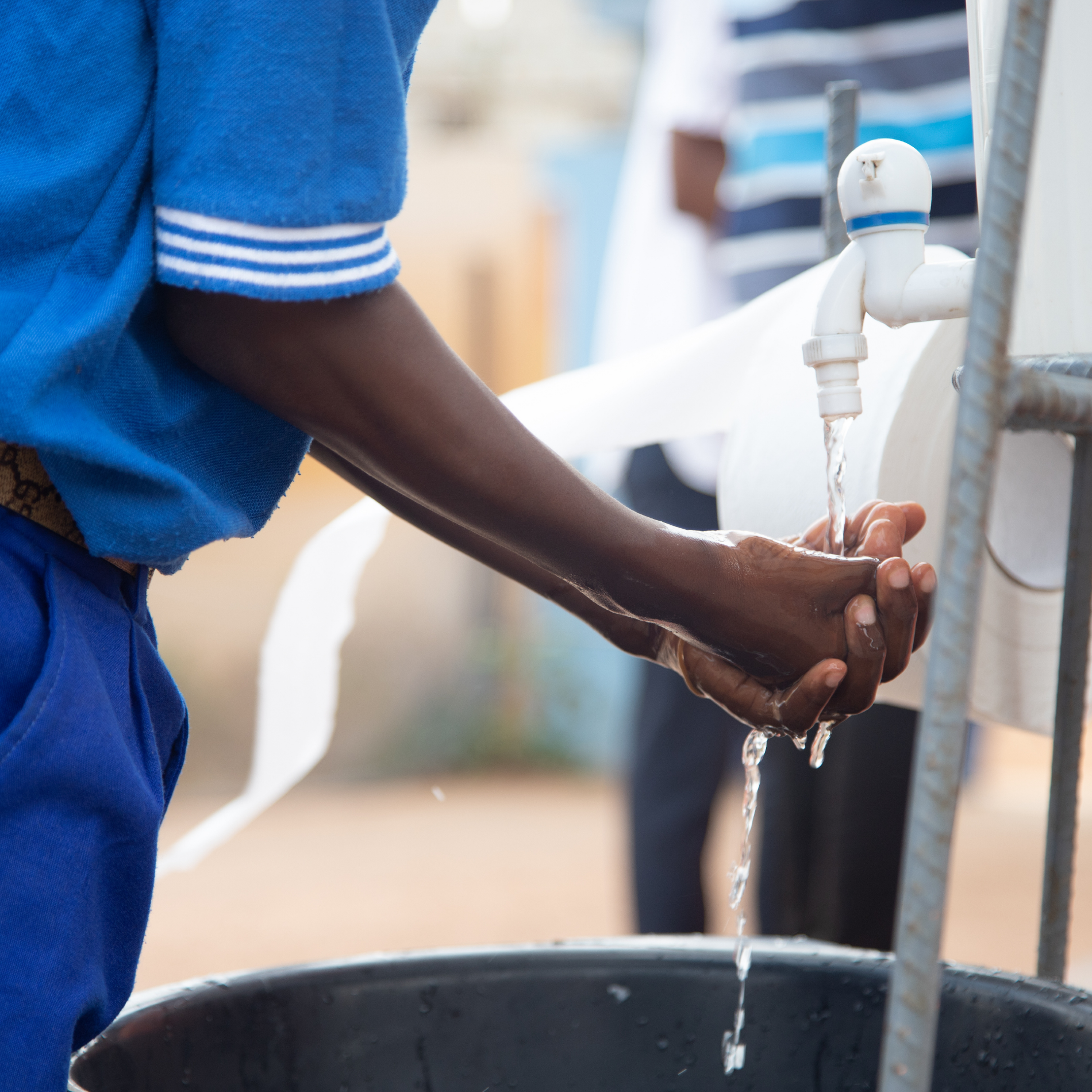 Impact meter
Our customer base is expanding rapidly and so is our impact! Due to the fact that you wipe your butt with our toilet paper, we get to make the impact we have envisioned to make! With 50% of our net profit, we invest in the building of toilets in Africa. These include toilets for households, communities, and schools! Besides, we also built our first Good Toilet, which is a biodigester. These toilets turn poo into power, so no waste goes to waste! The smelly poo can be turned into electricity, fertiliser, fuel, and even bricks! Together with our partner, SafiSana, we covert human waste into biogas and fertiliser to support and sustain the local community members and farmers. Next to your faeces being given a new purpose, we also ensure that there are boreholes at our Good Toilets, where water is filtered so the local community can drink clean and safe water! At our Good Toilets the community members can fill up their jerrycans on a regular basis. In addition, there is a kiosk located at our Good Toilet, where we provide free sanitary products for girls during their cycle.
All these efforts and factors together have made it possible for us to build 187 toilets and improve the lives of over 9337 people. All thanks to you, our partners, the input of the locals, and our hard-working employees in our office. Together we join forces to make a positive and big impact!
Our bamboo factory
Yes! You read it correctly, we are working on opening our own bamboo paper factory in Ghana! The demand for sustainable toilet paper is growing rapidly. However, recycled paper is decreasing in supply capacity. We currently roll with European recycled paper as well as bamboo rolls. In the future, we ourselves will be rolling with the toilet paper we will be producing! That means we already take away a part of the up and coming factory's supply. There are multiple competitors in selling bamboo rolls which they get in China. To meet the booming demand of Africa and reduce our environmental impact, the Ghana location will be ideal! The Ghanian population can buy our cheerful rolls locally. Moreover, our factory will have multiple possibilities ranging from The Good Roll paper and jumbo-sized rolls for other countries and private label rolls.
But why bamboo? Bamboo is just standing around like weeds, completely untouched. This gives us the possibility to give the local farmers a revenue stream. Bamboo is better for the environment than paper. As mentioned previously, bamboo absorbs 12 tonnes of carbon dioxide per hectare per year! Moreover, bamboo is biodegradable and does not have to be replanted after the cutting of the bamboo. Bamboo takes only a fifth of the fraction of water it takes to process wood into the same amount of toilet paper as our bamboo rolls. This additionally greatly reduces the energy consumption during the process.
Furthermore, we can buy the rolls 60% cheaper with our factory than we normally would buy it from China. This gives us the chance to invest even more money in building toilets in Africa and improve the lives of so many more people. We will be improving the economic and social wealth in Ghana. Due to the fact that we create new employment possibilities. This is good for the economy and the climate, especially when you look at the bamboo we will be planting and the opportunities it gives the Ghanian farmers. From bamboo that is not utilised to a booming toilet paper market! Get ready to roll.
100% circular
At The Good Roll we are proud to say that we, as a company, are 100% circular. 100% circularity entails that there are resources cycles in which we contribute to a never-ending cycle. The circularity involves designing and promoting products that can be reused, repaired, and remanufactured. We ensure that throughout our entire supply chain circularity is adhered. This includes all our waste streams, such as paper, cans, glass, cardboard, wood and PET, food and residual waste. It is not only the larger streams, but it additionally includes smaller sized wastes such as the coffee grounds used for hot coffee every morning at our office. We encourage this by having our own waste collector, which collects our recycled plastic and ensures it gets recycled properly by the Milieu Service Nederland. They ensure that the plastic in their factory, Plastic Recycling Amsterdam, is processed into a 99% pure raw material. This brings the plastic back to the beginning of the circle and restart its lifecycle. We acknowledge the importance of circularity and are proud to be 100% circular.
Sociale Impact
Swapfiets & Public Transport support
At The Good Roll, we are focused on our sustainable mission throughout our entire company. That is why we strive for our employees to be as sustainably focused as possible. We want to make this accessible to anyone at our company. That is why we have acquired Swapfiets bicycles for anyone in the company who needs or wants to use them, with the reinforcement of Swapfiets. This together with our travel allowance with public transport cards, for all our employees, stimulates the increased usage of public transport. We can stimulate our employees to go to work by public transport, however, if we would not provide them bicycles it would still be an obstacle to get to the office. That is why the combination of both resources, makes this initiative so successful. Our sustainable travel ambitions additionally increase employee satisfaction as there is a suitable option to get to work for every single person. Together, we work towards a better world.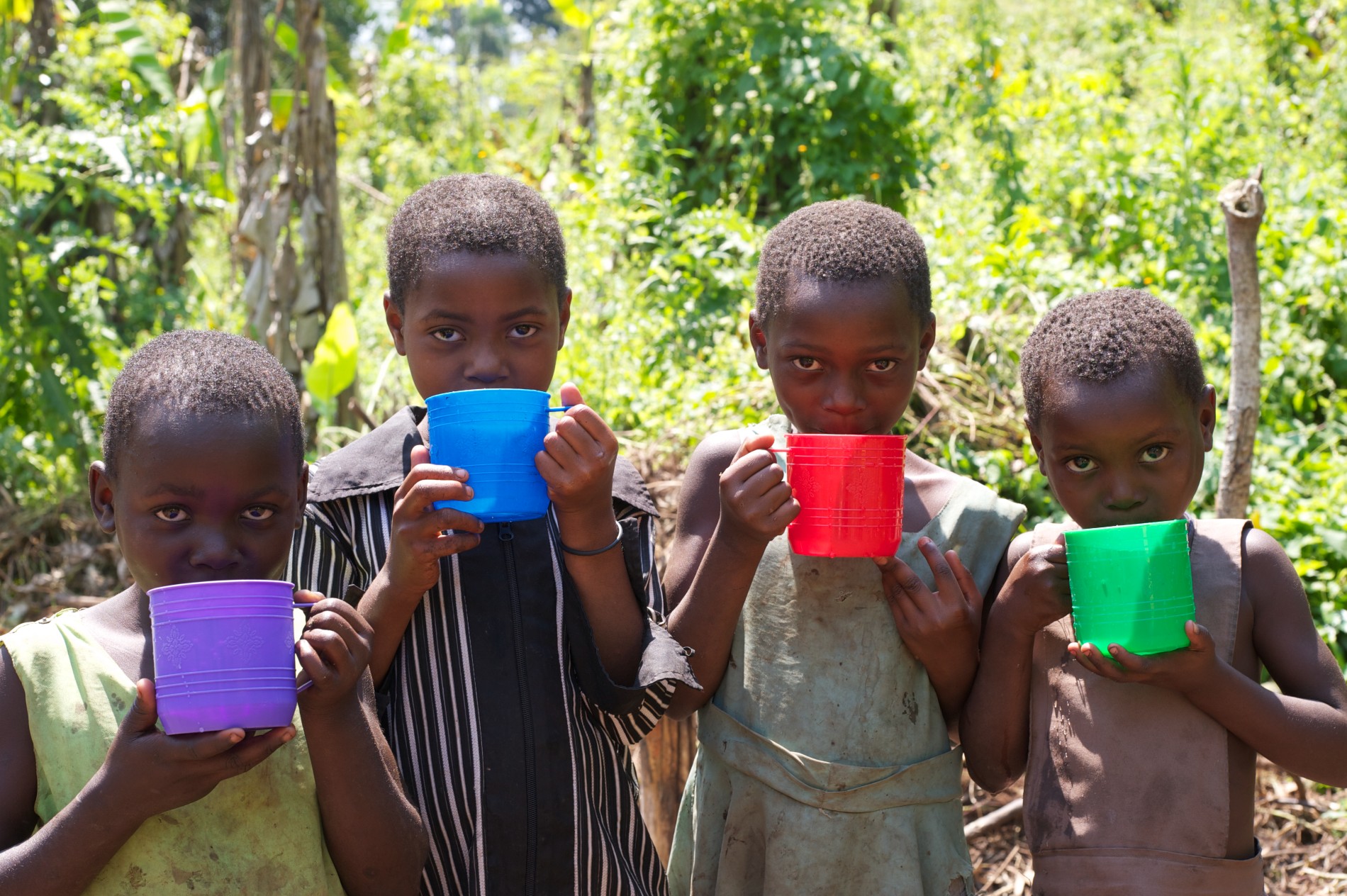 Days for Girls
Our social impact is visible both internally and externally from our company. One of the external social impacts we achieve is our partnership with Days for Girls. Days for Girls is on a mission to promote menstrual equality, health, dignity and opportunity for all. Days for Girls (DfG) sanitary napkins are washable, reusable, beautiful and long-lasting menstrual products.
You can count on them month after month for up to three years. They come in different sizes and adjust to your flow, so there is an option for every individual girl. Sanitary awareness is very important, which has been highlighted by the recent pandemic. That is why DfG also offers training to educate about menstrual health in the field.
When girls in Africa get their periods, there is a whole stigma surrounding it. Girls either have to stay at home because they have no sanitary products. This leads to them falling behind in their education after each menstruation compared to the boys who do not have to miss school. We find this absolutely unacceptable and unnecessary. That is why we offer the Days for Girls products at our Good Toilets in Ghana. This way, girls get an equal chance at education, health and well-being for all.
Sheltered workshop
The Good Roll also works on a direct social impact, locally as well as globally. Our local contributions are shown in our sheltered workshop, which is growing just as fast as our company is! We work with three sheltered workshops for the wrapping and packaging of our products. We hire people that are at a distance from the labour market, with this we ensure that everyone that wants or can work has the opportunity to do so. The employees wrap and box our toilet rolls, kitchen rolls, and tissues in our social workplace. We help them with a safe environment to work in, and they keep us rolling! This is all possible due to our collaboration with De Sociaal Werkkoepel. They share information with us. Together, we make sure that people with limited labour-power or a temporary reduction in wage value get the chance to work in a fitting and sustainable workplace. Whom we happily guide through their time working for us. We are excited to see our sheltered workshop grow with us!
Choose: