Pim and Pom
POOPING HAS NEVER BEEN SO MUCH FUN
Through the eyes of a child, defecating can be quite exciting. What if you fall in the pot? And where does that turd actually go? Fortunately there are the Pim & Pom toilet rolls with illustrations by Fiep Westendorp. Illustrations are distracting and turn going to the toilet into something fun. Plus: after the toilet visit, the wrappers can be coloured. A nice reward!
THE LIMITED EDITION PIM & POM TOILET ROLLS ARE AVAILABLE EXCLUSIVELY AT SELECTED JUMBO SUPERMARKETS, FOR MORE PRODUCTS CLICK HERE.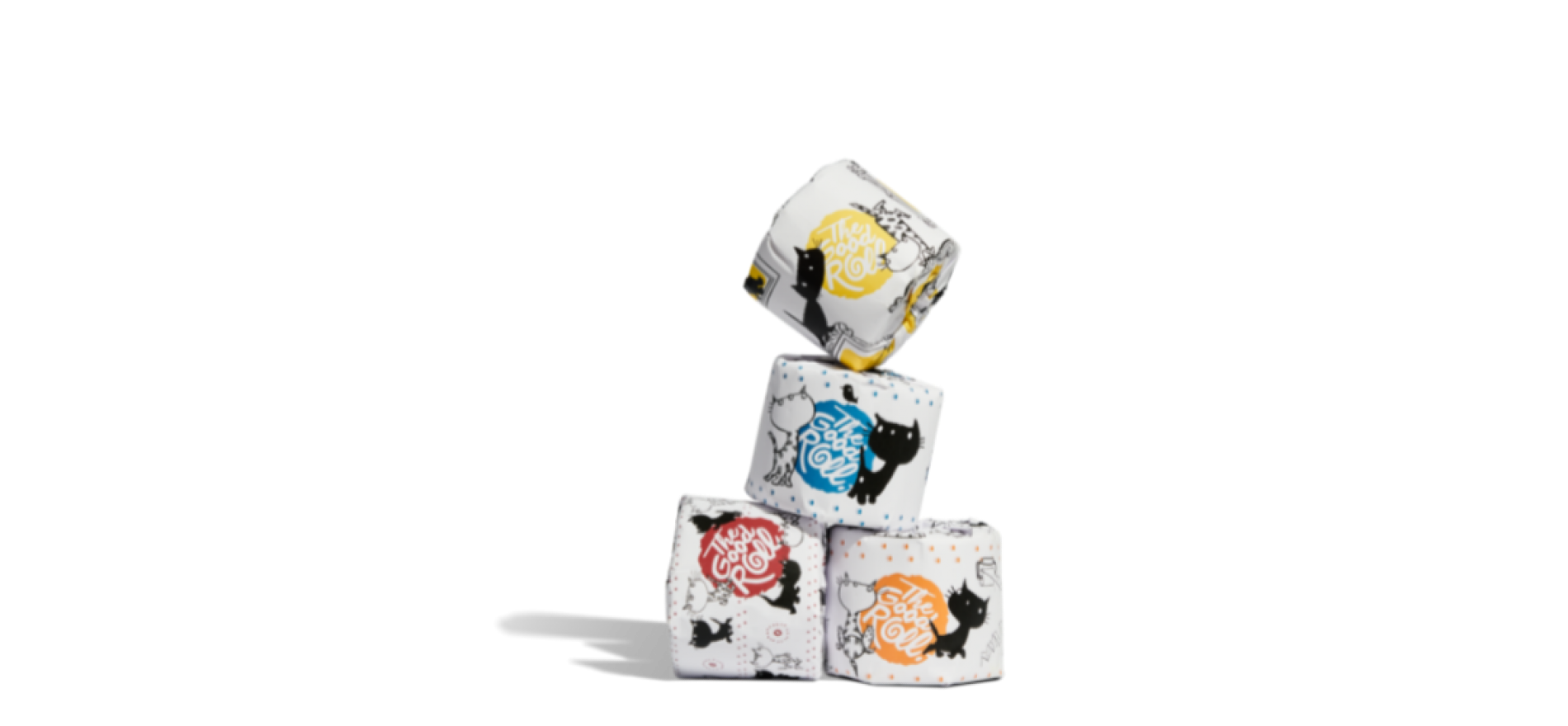 TIPS & TRICKS FROM CHILD PSYCHOLOGIST SUZANNE SMEDTS
Reward your child's behaviour when it moves towards the toilet. So if your child only goes to look, or sits on it but does not yet do a pee, reward him or her for it.

Give the child the feeling that he or she is in control and decides when to exercise, but make sure that you, as a parent, stimulate the exercise.

Let your child practise going to the toilet in a different environment, such as at grandparents'.
READ HERE THE ADVENTURE OF PIM & POM
Notes
(Pom looks for Pim)
Pom: (loudly) Mauw... mauw... Where are you, Pim?
Pim: Meow, meow, here, Pom!
Pom: Where's here?
Pim: In the smallest house.
Pom: (shakes his head) In the smallest house! Who's going to sit in the smallest house when you have so many cosy rooms and nice corners? Let's see... (He looks around the corner of the door of the smallest house) What are you doing here, Pim? Don't you have your own litter box?
Pim: But I'm not here to pee either. I'm writing a note.
Pom: Write! You can't even write!
Pim: And what would that be? When my friends receive a note and they see the holes I've made in it with my little nails, they'll say: hey, how nice. Those are Pim's nails. He certainly wanted to say hello.
Pom: But why shouldn't they say: those are Pom's nails?
Pim: Because your nails aren't on it.
Pom: (jeering) Then I'll put them on. And then they'll say: Hey, those are Pim and Pom's nails. How nice. They certainly want to say hello. Come on, where's your letter?
Pim: (points to the roll on the wall, where he can just reach it with his nails) Here... my nails are already on it.
Pom: (puts his nails firmly into the paper) And these are mine. Who shall we send this letter to, Pim?
Pim: To the wife of course; the wife is our best friend.
Pom: Good. Then I'll put another nail in it. (He digs his nails into the paper) Hey... Look, Pim, there's another letter attached.
Pim: (laughs) Well, surely we have more friends than the wife!
Pom: So who do we send it to?
Pim: The butcher of course. (He digs his nails into the paper too)
Pom: Great. (He digs his nails into it too and look, there goes the paper roll rrrrr...) Hey Pim, another letter! There's another letter attached!
Pim: For the fishmonger. (They write their letter quickly and rrrr... the roll goes).
Pom: Pets... One more! Hi... One more! For the girl with the soft mittens who is always petting us.
Pim: Pets... Pets... Next... For the little boy who always thinks up such funny cat games.
Pom: Pets... Pets... Another one... For the lady in the tiger coat, who smells so good. And one for the old man who never forgets to say hello to us. (Rrrr... does the roll).
Pim: Look at us, Pom. We look like a postman, we've got so many notes already.
Pom: (out of his mind) Hup, hup, hup, pets, pets, another letter, another letter, another one, another one, for all the ladies, for all the men, for all the boys, for all the girls, for all the cats... (Rrr... rrr... does the scroll).
Pim: For all dogs... (Rrr... rrr... does the roll).
Pom: Go on! Go on... (Rrrr... rrrr.... does the rolling.)
Pim: Ho ho... I can't see anything anymore. I'm in a house of letters!
Pom: Silly, it's called a post office! Pets, pets... Hup... hup... We are a post office! (Rrrrr... rrrr... does the roll.)
Woman: What's that I hear? What is that noise and rustling? (Looks around the corner of the cottage). Ouch... ouch... uglies! Get going! Go!
Pom! We're a post office! We send letters!
Pim: Don't be ugly, woman, or you won't get one!
Pom: Put your paw on it too, woman. They're all nice people we've written to!
Woman: If you don't get out of here, I'll keep you here all night!
(Pim and Pom rush out of the little house).
Pom: (under the cupboard) I sometimes think: cats are much more friendly than people. You're not even allowed to write letters to your friends any more.
Pim: (angry) With people, nothing is allowed.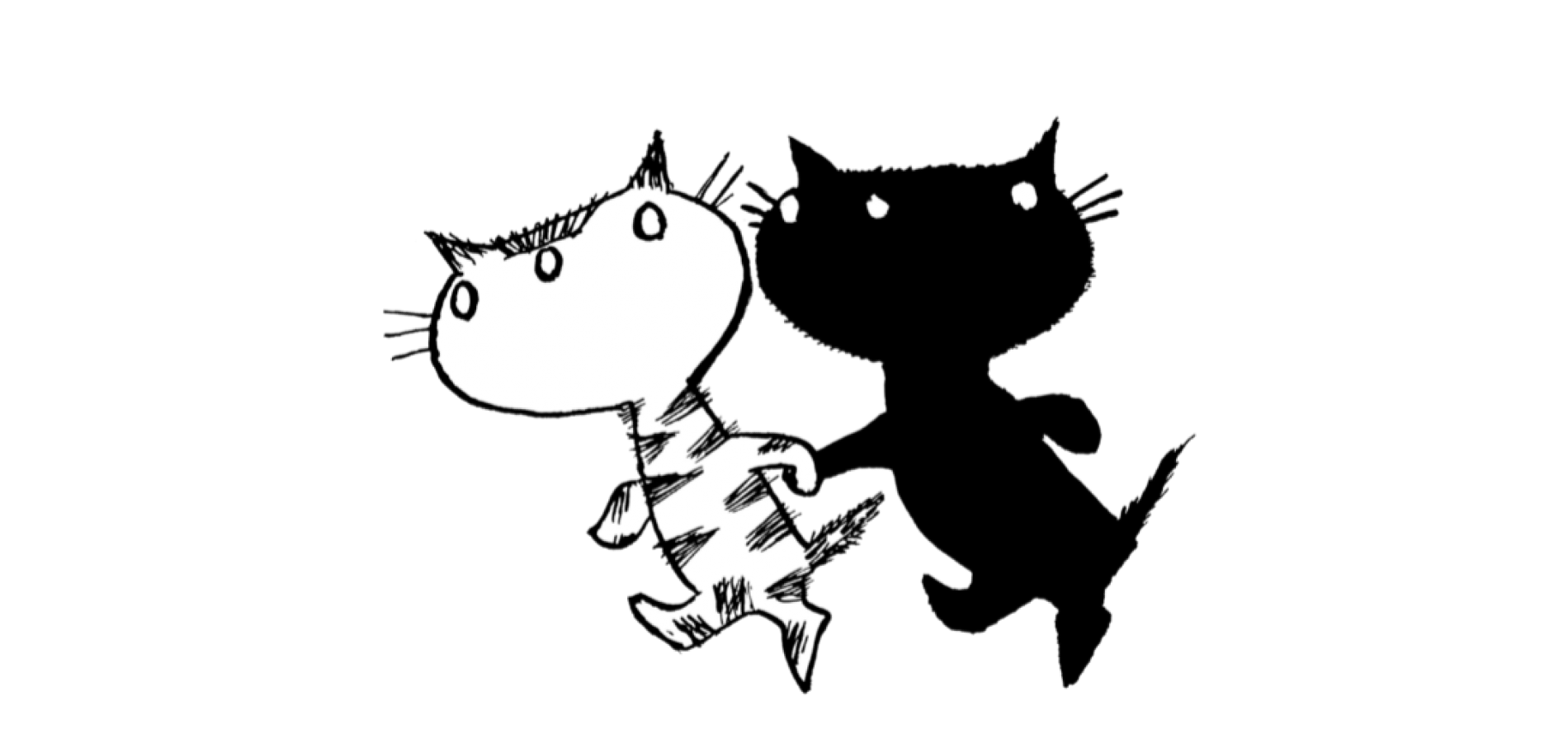 ABOUT THE GOOD ROLL
The Good Roll was born out of a common frustration. Worldwide there are 2.3 billion people who do not have access to safe and clean toilets. That is one third of the world's population. In addition, 270,000 trees are felled every day for the production of toilet paper. These staggering figures are the inspiration for The Good Roll, an initiative to tackle both problems. The Good Roll is a one hundred percent tree-friendly toilet roll made from recycled paper. Half of the net profit from the sale of The Good Roll is used for the construction of special toilets in African countries. A truly unique Dutch win-win concept.
ABOUT THE FIEP WESTENDORP FOUNDATION
Fiep Westendorp (1916-2004) is one of the best known illustrators in the Netherlands. When she died in 2004 she bequeathed the rights to her work to the Fiep Westendorp Foundation, which she had established herself. The profits made from the sale of 'Fiep products' with illustrations of Pluk van de Petteflet, Jip and Janneke and Pim & Pom, among others, go to the Fiep Westendorp Foundation. The FWF supports and develops projects for children who are less fortunate and projects for the artistic and cultural education of children. The Foundation also has a number of special projects of its own, including the Fiep Westendorp Incentive Prizes for young illustrators, the Illustration Embassy and the Special Chair in Illustration at the University of Amsterdam.
Choose: